Recently, we've been iterating on our blog to improve the UX for Cube's diverse audience and account for the growing volume of the content.
Now, we're happy that data engineers and application developers have a better, cleaner way to access the guides and tutorials on using Cube with other tools in the data space.
As a headless BI platform, Cube works with numerous data sources and data consumers. We've announced six integrations over the last few months (Tableau, Ahana, Supabase, Materialize, QuestDB, and dbt) that were all accompanied by hands-on technical guides.

Navigation Rehaul
Historically, application developers have a very strong presence in Cube's audience. However, since the announcement of the SQL API preview in late 2021 (matched with the recent expanded BI support announcement), Cube has received a lot of interest in the data engineering community.
So, now we match that with top-level categories in the blog: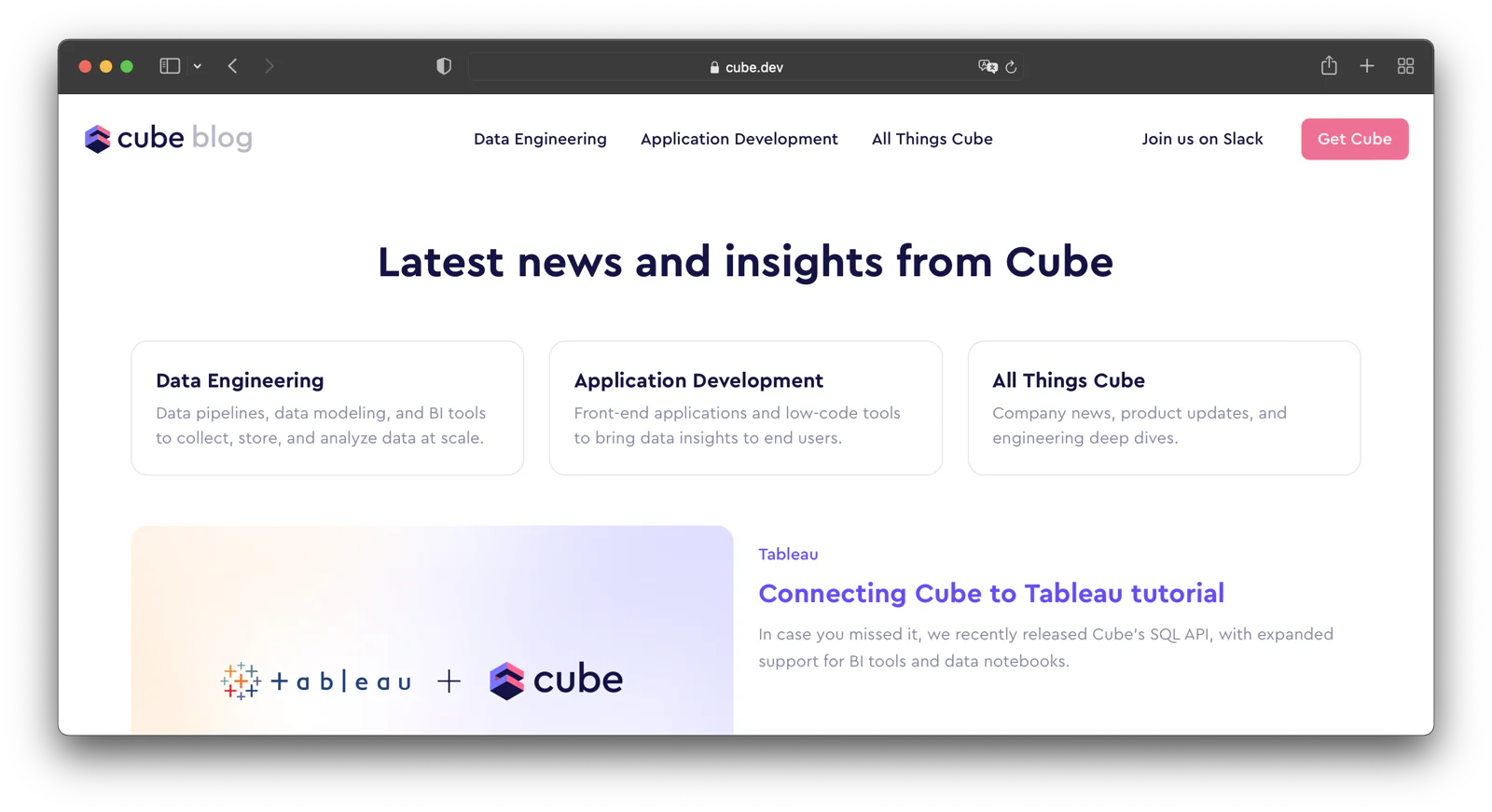 There you can can find collections of posts covering categories of tools (like Cloud Data Warehouses) or individual tools in the data space (like Amazon Athena).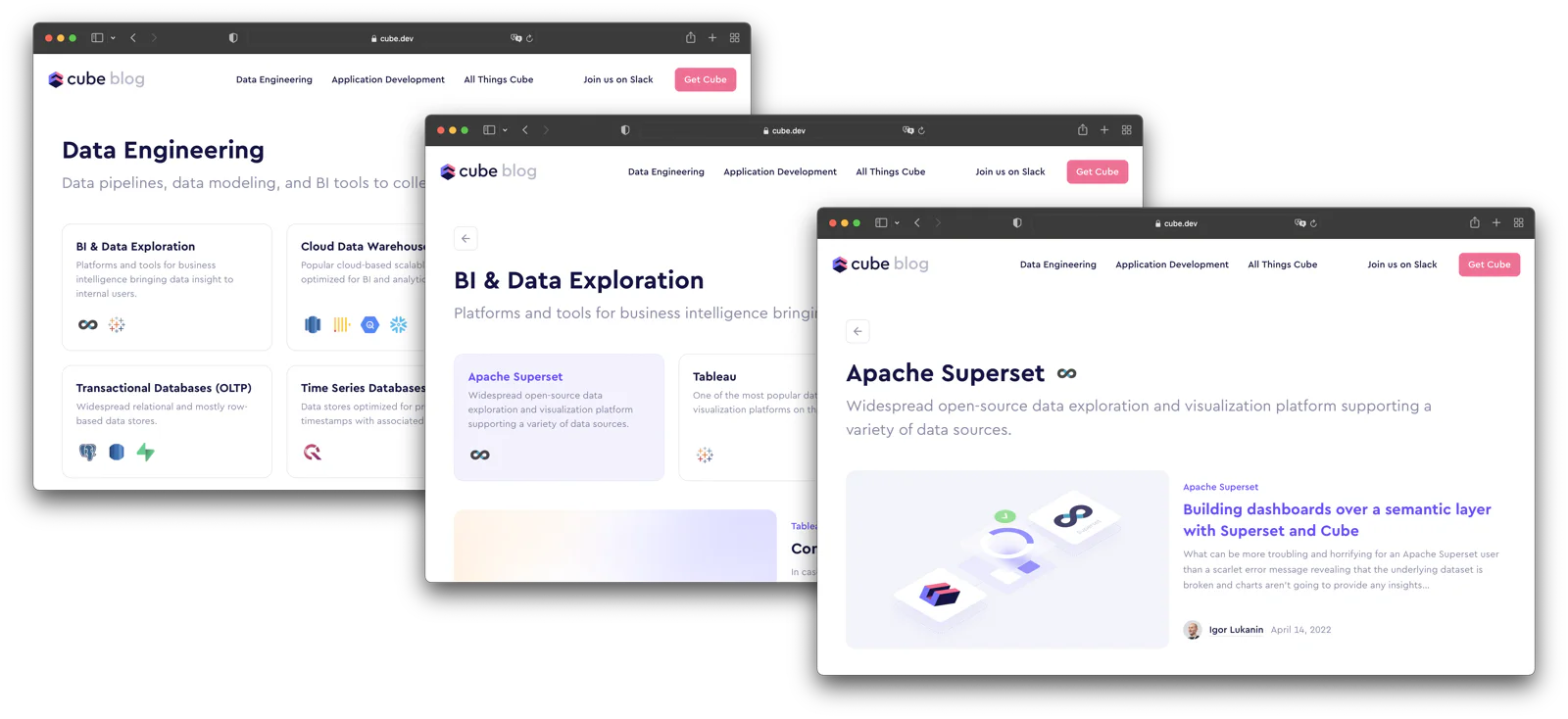 You can find themed collections in other blogs as well (e.g., Hasura or GitHub), and we hope that this pattern will get even wider adoption in technical publications: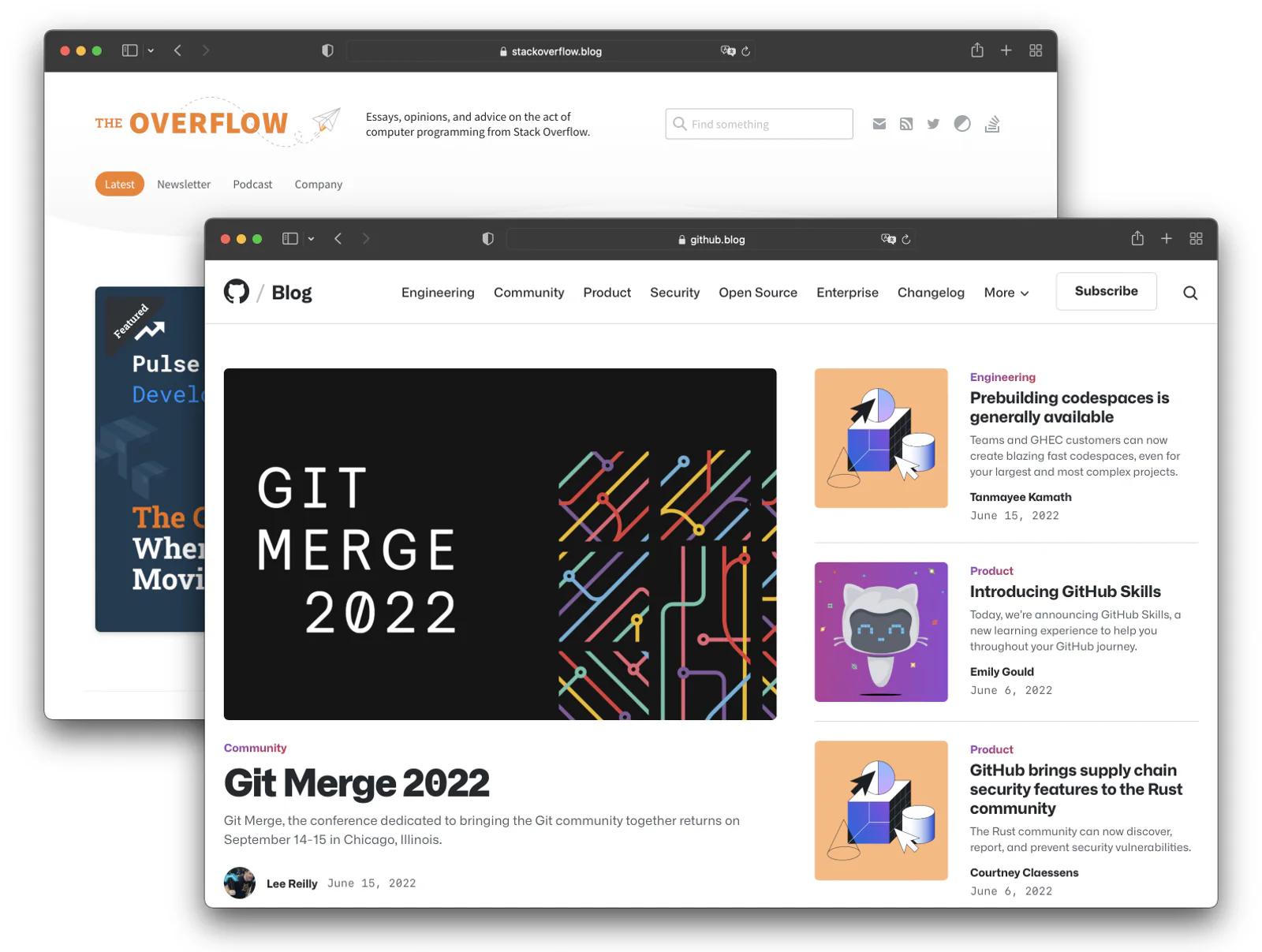 Focus on Content and Authors
Catering to Cube's deeply technical audience, we routinely publish guides and tutorials up to 5-6 thousand words in size that take 15-30 rewarding minutes to read.
Now every blog post is accompanied by a table of contents that provides for the convenient navigation through the content and helps build expectations: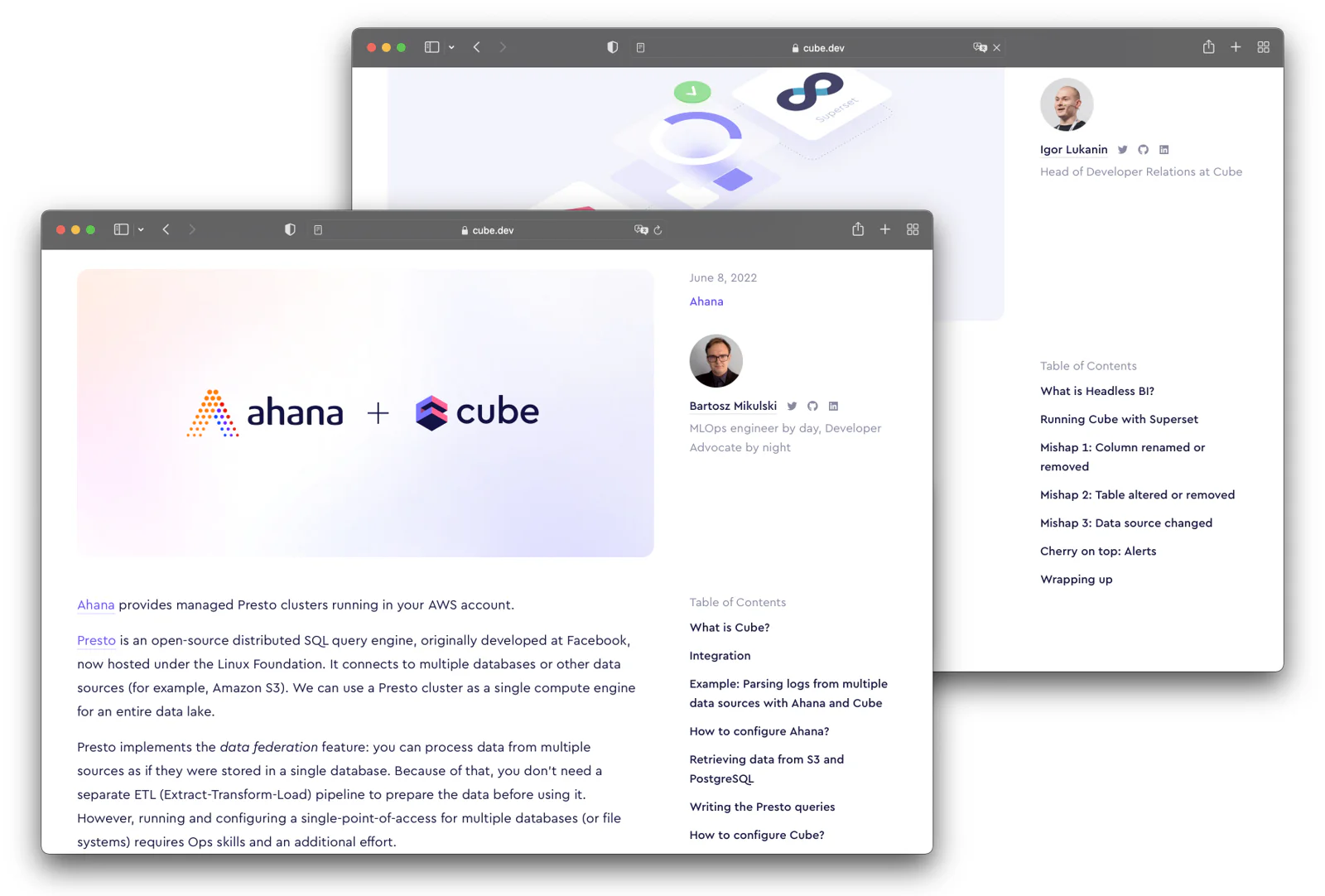 We also recognize that the blog is collectively produced by the Cube team and community, and sometimes posts are even co-authored. So, now posts are accompanied by authors' profiles with social links—feel free to reach out and follow!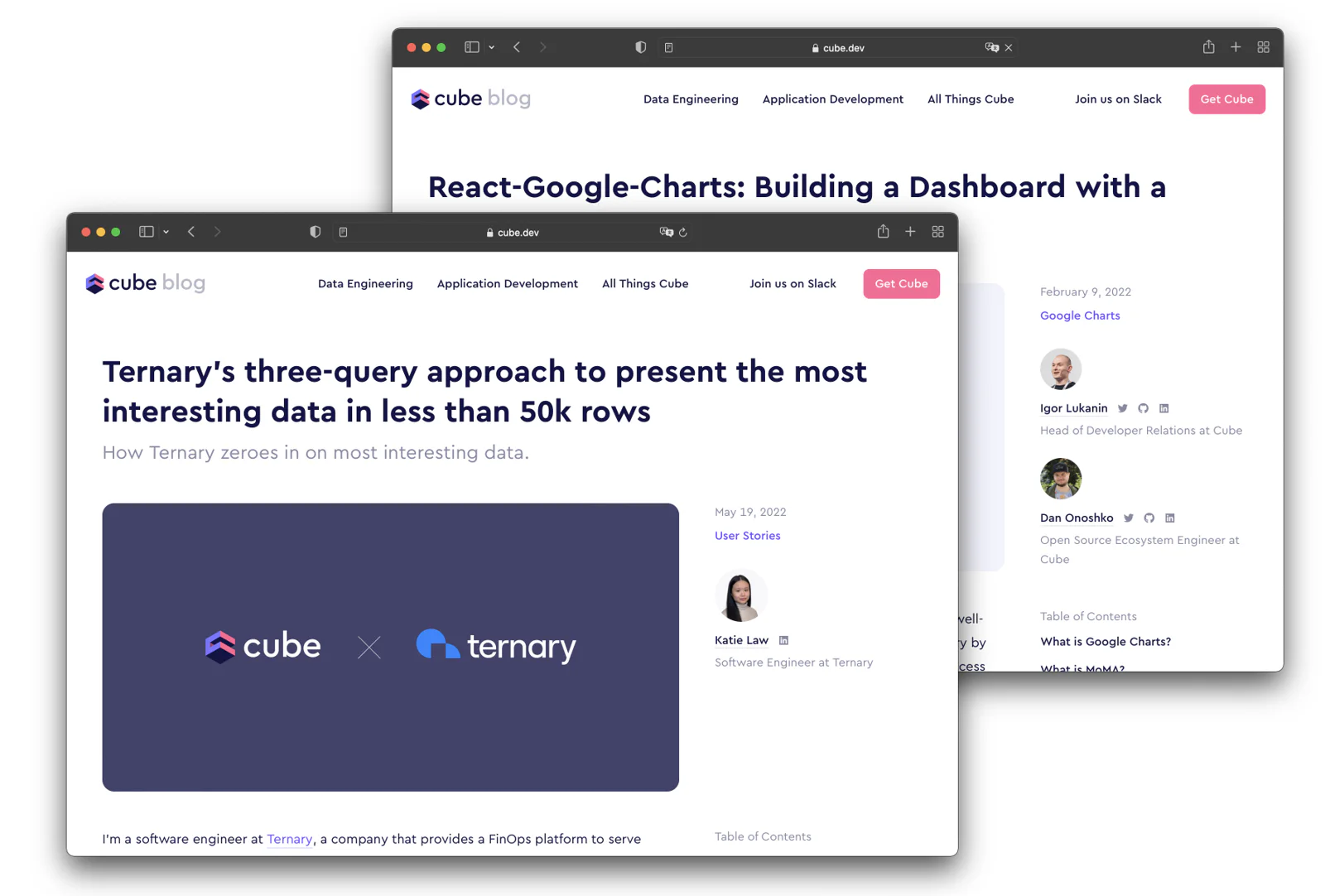 It's always good to put the authors in the spotlight and we appreciate how Evil Martians and Smashing Magazine do that: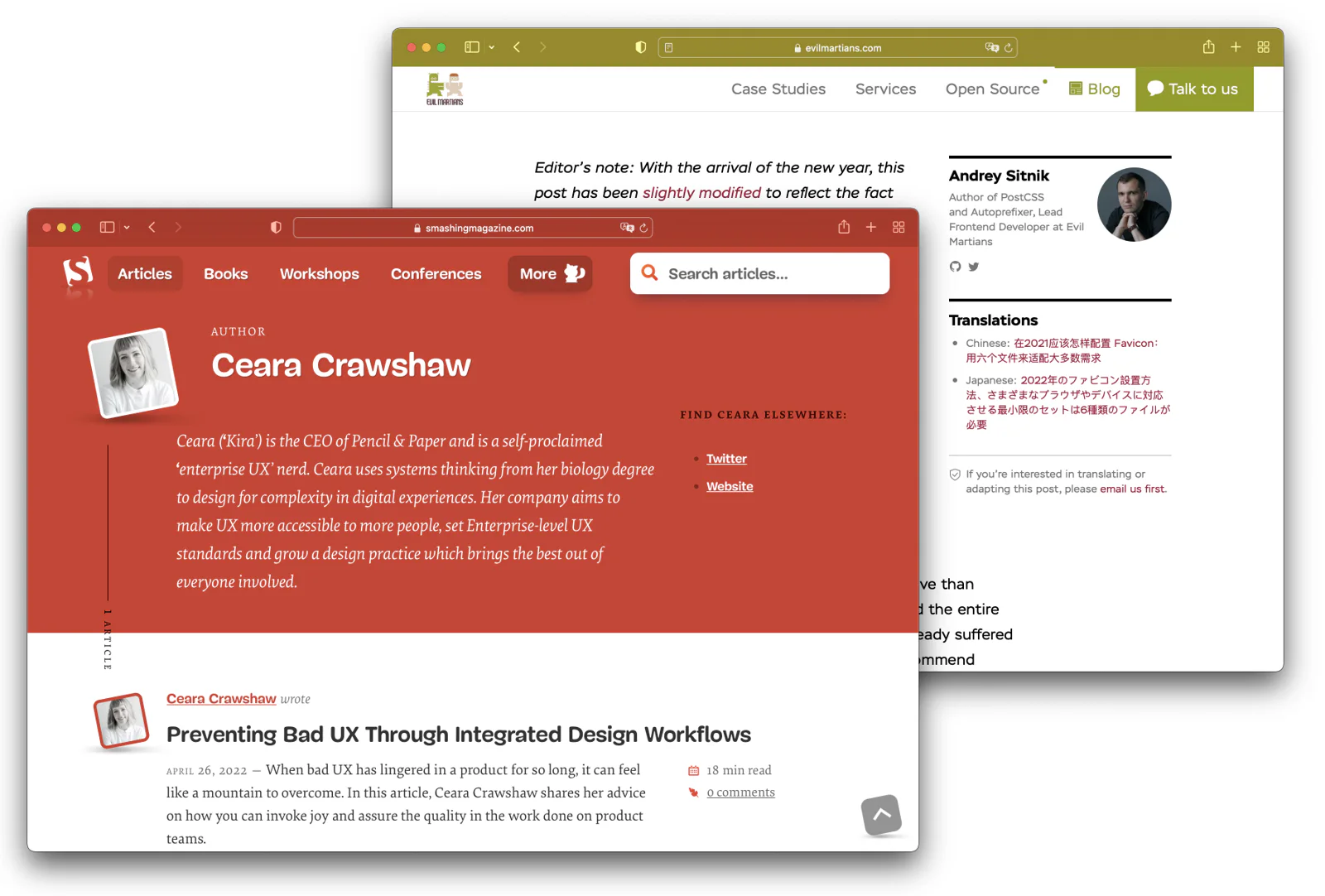 Sneak Peek Under the Hood
We not only enjoy the end result but we also had fun developing this blog update. Here's what the Growth Engineering team wants to share.

We hope that rehauled navigation and categories make our blog more like a textbook on data engineering and app development, less like an assorted collection of geeky notes.

We tried hard to make sure that users are getting value as soon as possible and there's no disruption to content updates in the blog.

With excitement, we await Sofi's story in Smashing Magazine where she reveals the nitty-gritty details behind the blog post feed layout.
Hope you like these updates to the blog—please share your feedback on Slack or Twitter.