ProductProduct
DocsDocs
Resources
Tutorials & Examples
Get your API up and running in 2 minutes
Tutorials & Examples Get your API up and running in 2 minutes
Community
See how to contribute to Cube
Community See how to contribute to Cube
Events
Learn more about our upcoming events
Events Learn more about our upcoming events
Cube Cloud Status
Check the uptime of Cube Cloud
Cube Cloud Status Check the uptime of Cube Cloud
PricingPricing
Company
About
Learn more about Cube Dev
About Learn more about Cube Dev
Blog
Product updates, user stories, and more
Blog Product updates, user stories, and more
Careers
We're hiring to Engineering and DevRel
Careers We're hiring to Engineering and DevRel
Sign In
Sign In
Book a DemoBook a Demo
Join the Cube.js Community
We believe that open collaboration is the best way to build software. That's why we shape the Cube.js community to be a place where everyone feels welcome.
Whether you are new to open source or a veteran contributor, we want to make it easy for everyone to join the Cube.js community and find different areas where people can contribute.
Join us on Slack — and moreJoin us on Slack — and more
Ways to Contribute
Pull requests on GitHub is only one of many ways you can contribute to Cube.js
Share experience and learn from others on Discourse
Join discussions on use cases, tips & tricks, ideas, community, etc. in our community forum. Help us build a knowledge base for the Cube.js community!
Join the discussionJoin the discussion
Connect with other community members on Slack
Join 4,000 other community members on Slack where you can find the latest news in #announcements and also connect with the Cube.js core team in #contributors.
Join SlackJoin Slack
Improve the Cube.js platform on GitHub
Explore our public roadmap
Have a look at the upcoming features in Cube.js, upvote 👍 and share your feedback.
Explore the roadmapExplore the roadmap
Suggest improvements
Search through existing issues to add feedback, suggest enhancements, or file a bug. Someone from the Cube.js team will get back to you in a few days.
Browse the issuesBrowse the issues
Contribute code
Get recognition by providing fixes to documentation or adding new features to Cube.js like 200 community members already did. The issues labeled with help wanted or good first issue are great starting points. Feel free to engage in discussion with the Cube.js community in an issue and proceed with a code contribution with pull requests.
Explore good first issuesExplore good first issues
Help answer questions in Stack Overflow
Share your knowledge of Cube.js internals and best practices by answering other community members' questions on Stack Overflow.
View the questionsView the questions
We want to celebrate community contributions in different ways ranging from a simple "thank you," to sending out fun Cube.js swags, and even formal recognitions.
As a part of formal recognition, we'd like to introduce key community members called Cube.js HeroesCube.js Heroes who have made sustained contributions to the community. Community members should feel free to reach out to these Heroes as resources for guidance and support during their Cube.js journey.

Jc Weinrich
HERO
Based in Edmonton, Jc is an Architect at Jobber, where he is working on developing mobile services for Jobber's customers. Prior to Jobber, Jc was a software engineer at Honeywell in Alberta and Scotland. Jc first started using Cube.js in January 2020.

Ricardo Tapia
HERO
Based in Amsterdam, Ricardo is a Lead front-end developer at Qualibrate where he is working on bringing the user experience of Qualibrate's test automation platform to the next level. Ricardo first started using Cube.js during the very early days in 2019.

Tanvi Pal
HERO
Based in Colonia, New Jersey, Tanvi is a Senior Software Engineer at COTA. In addition to healthcare, Tanvi worked in other industries such as shipping and financial services. Tanvi and her colleagues at COTA started using Cube.js in September 2019.
Monthly Community Calls
Join our monthly calls and participate in discussing topics of interest in the Cube.js community.
Join the next monthly callJoin the next monthly call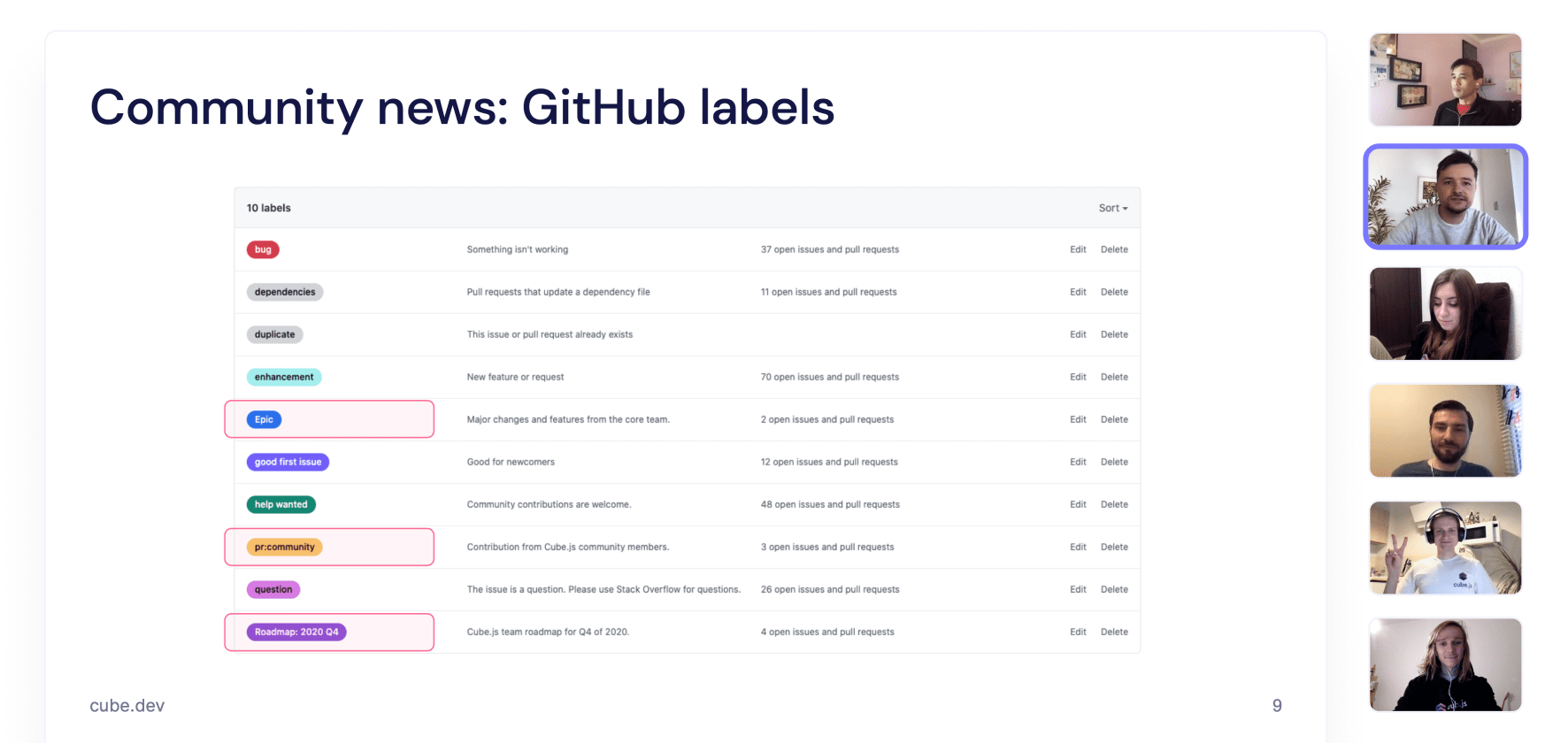 How to Get Help
Still not sure how to get started or have more questions?
Please ping us in the #contributors channel on Slack.
Community Code of Conduct
We have our code of conductcode of conduct in place to foster an open and welcoming environment for everyone.
Please report instances of unacceptable behavior to conduct@cube.devconduct@cube.dev.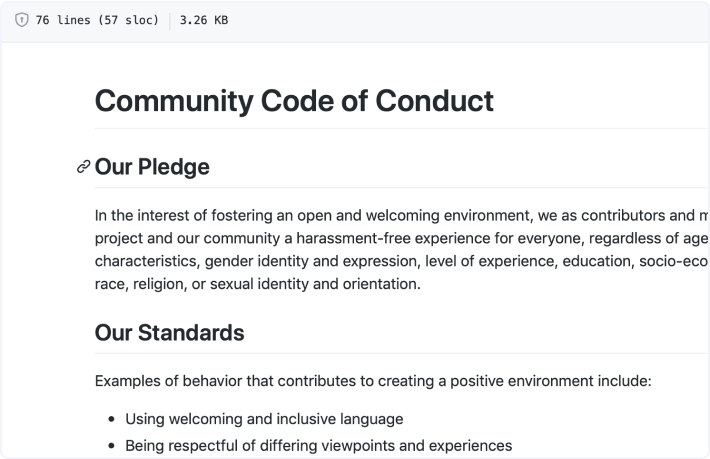 © 2021 Cube Dev, Inc.
Resources
DocumentationDocumentation
Tutorials & ExamplesTutorials & Examples
CommunityCommunity
EventsEvents
Cube Cloud StatusCube Cloud Status
Company
AboutAbout
BlogBlog
CareersCareers
Terms of UseTerms of Use
Privacy PolicyPrivacy Policy
Channels