One of the main reasons I enjoy being part of open source communities is that they bring together people with diverse backgrounds to work on interesting problems. These days, open source community members contribute more than code. They also improve documentation, help new users, provide feedback on products, report bugs, organize local meetups, etc.
People contribute to open source projects for many reasons, ranging from improving the software they use daily to pursuing opportunities for professional growth (both technical and non-technical). However, you also see people in communities driven by more intrinsic motivations such as genuinely enjoying working with the technology or even simply helping others.
Even though these intrinsically driven people are not necessarily looking for recognition, that doesn't mean they don't deserve one or appreciate being recognized. Even a simple "thank you" in a direct message can brighten someone's day by simply letting them know that their contribution was noticed. Beyond words of thanks, swags are also a great tool for recognition and fostering a sense of community. We are working on fun Cube.js swags, and we hope to see more celebrations like this in the near future: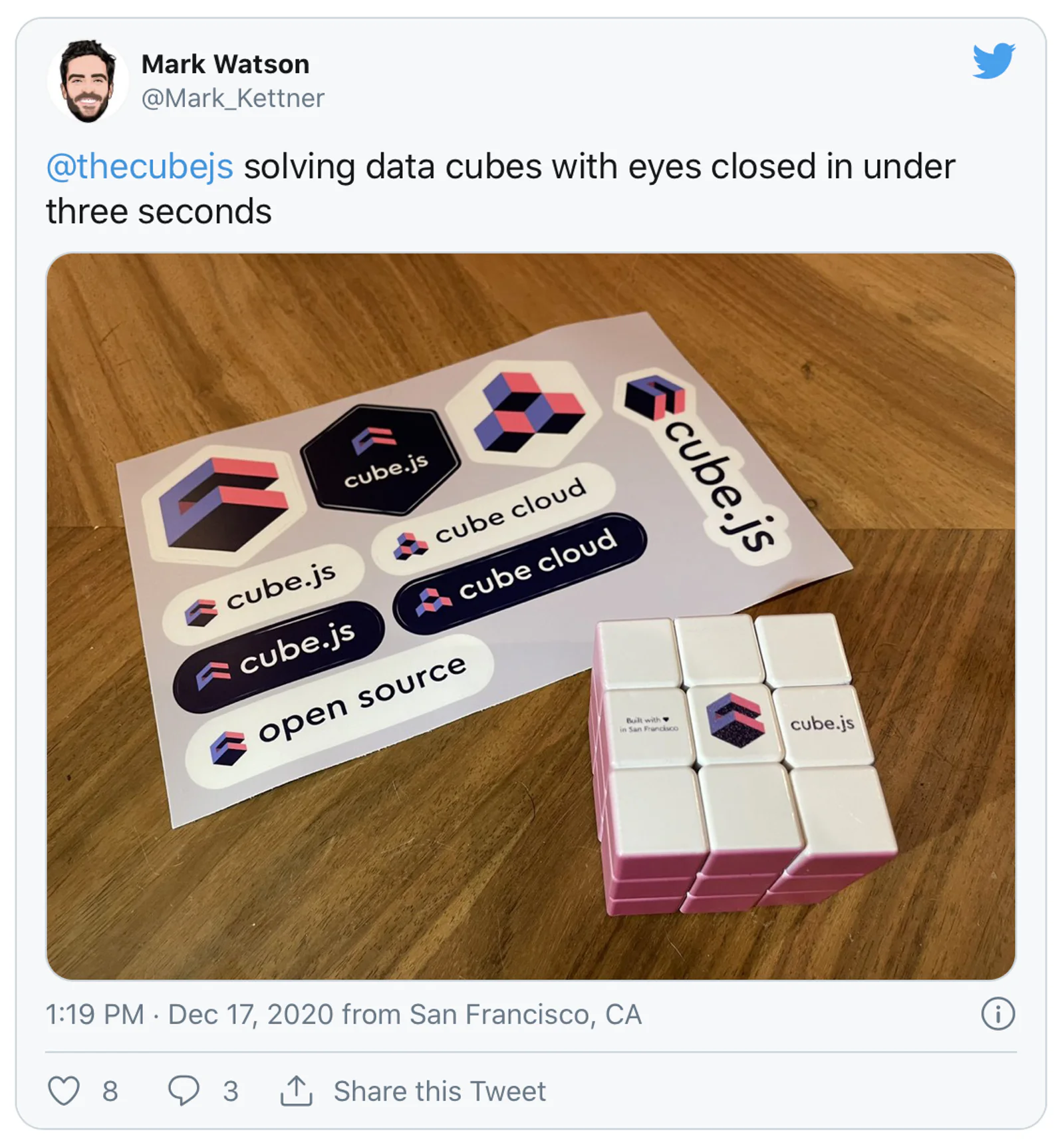 We also want to have more formal recognition for community members. As a part of this more formal recognition, we want to introduce Cube.js Heroes who made sustained (e.g., for 12 months or more) contributions to the Cube.js project and community. Heroes will be relied upon to help other community members and represent us at local meetups to industry conferences. Along with other community members, the Heroes will also serve as a sounding board on important community-related issues in the future. We look forward to their on-going contributions, and you will find them in the Cube.js repo, Slack, Monthly Community Calls, and other channels.
We learned from contributor programs from other open source communities, and they served as inspirations. However, we really wanted to emphasize the diversity of membership for the Heroes from the beginning rather than addressing it later on.
For diversity, we want to be inclusive of gender identity, geography, industry, types of contributions, etc. As a result, there will be a limit of one Hero from each organization (e.g., company, academic institution, etc.). Also, we will have a 2-year term for each individual. Heroes are welcome to serve multiple terms, but I believe having a set term allows people to consider stepping down gracefully when there are changes in their lives (e.g., a new job) or simply giving other community members an opportunity.
Also, our primary goal isn't to have as many Heroes as we can in the Cube.js Community. So you will see us growing the ranks gradually that's reflective of the overall Cube.js community size.
We will continue to iterate on the program as the Cube.js community grows. For example, we may introduce formal nomination and voting processes for future members. If you have other suggestions or thoughts, I'd love to hear them.
Without further delay, I would like to introduce you to the first class of Cube.js Hereos.


I want to thank Jc, Ricardo, and Tanvi for their contributions since the early days of Cube.js and congratulate them on being our Heroes. I personally enjoyed working with them over the past few months as I got up to speed on my role and look forward to continuing working with them to help the Cube.js community grow.
If you're interested in learning how you can contribute to Cube.js, come visit our Community page!