ProductProduct
DocsDocs
Resources
Tutorials & Examples
Get your API up and running in 2 minutes
Tutorials & Examples Get your API up and running in 2 minutes
Community
See how to contribute to Cube
Community See how to contribute to Cube
Events
Learn more about our upcoming events
Events Learn more about our upcoming events
Cube Cloud Status
Check the uptime of Cube Cloud
Cube Cloud Status Check the uptime of Cube Cloud
PricingPricing
Company
About
Learn more about Cube Dev
About Learn more about Cube Dev
Blog
Product updates, user stories, and more
Blog Product updates, user stories, and more
Careers
We're hiring to Engineering and DevRel
Careers We're hiring to Engineering and DevRel
Sign In
Sign In
Book a DemoBook a Demo
Cube Cloud is the fastest way
to&nbspdevelop data applications
Deploy, scale, and optimize Cube applications on the cloud of your choice.
Get started for freeGet started for free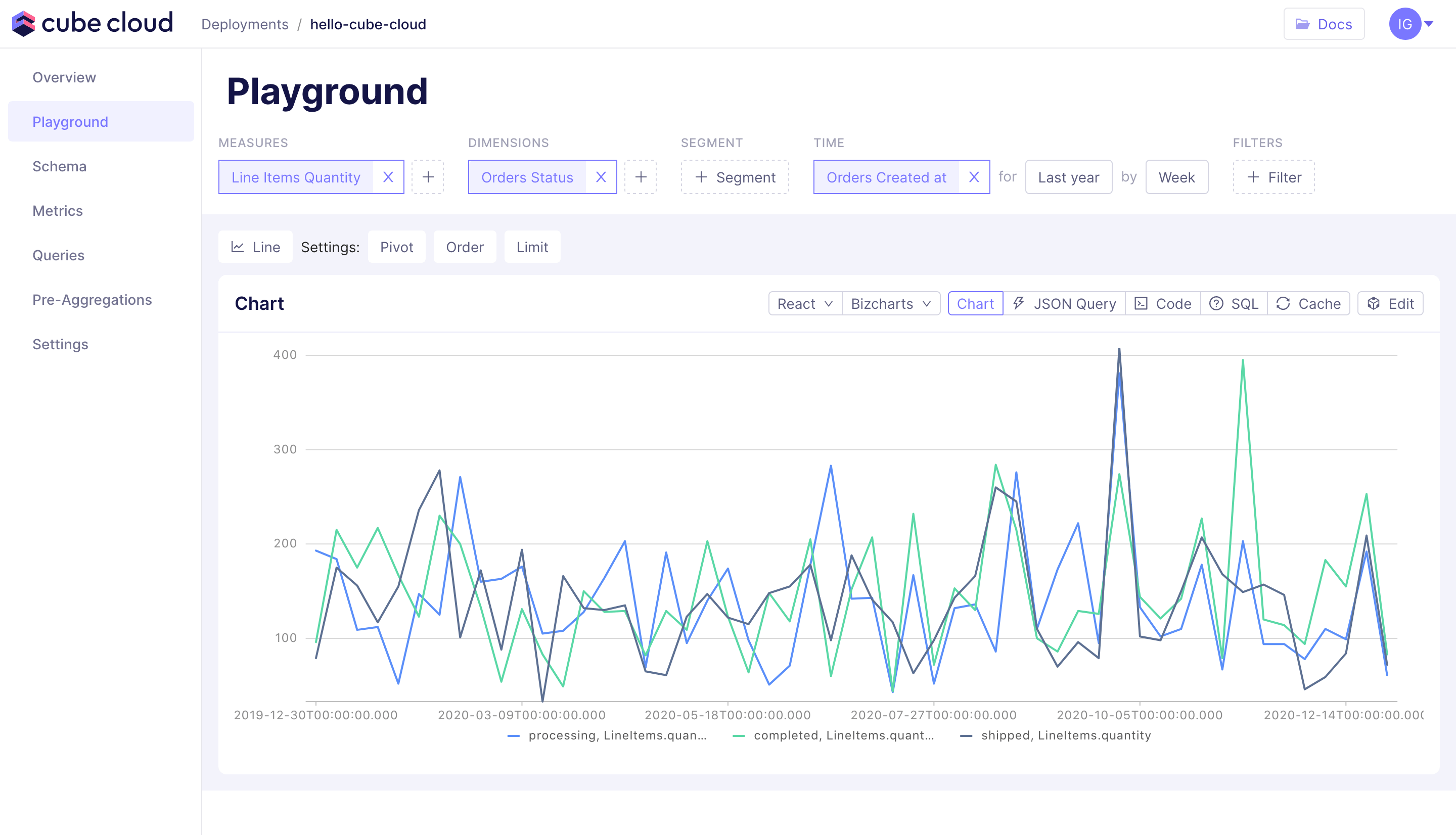 Watch how to launch your data app in Cube Cloud
With over 11,000 stars on GitHub, Cube is trusted by Fortune 500 companies and startupsRead all user stories →Read all user stories →
Powerful developer tools
There's no easier way to build, test, deploy, and manage Cube projects
Build and test projects
Develop and run applications with the Cube Cloud IDE, manage schema changes with version control, and launch development API endpoints to test changes in your application before shipping them to production.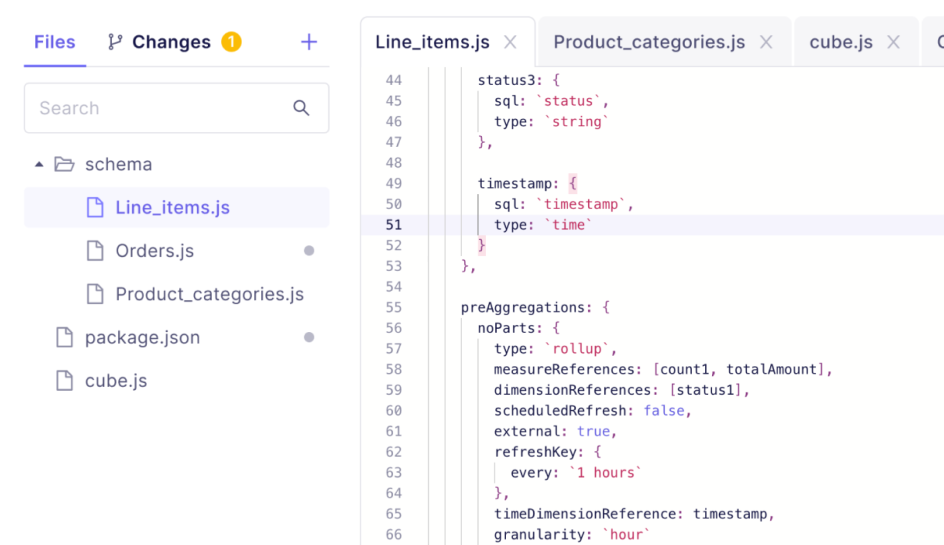 Analyze performance
Spot bottlenecks and apply optimizations. Drill into a specific query to understand its lifecycle, inspect underlying SQL code, and assess its impact on application performance.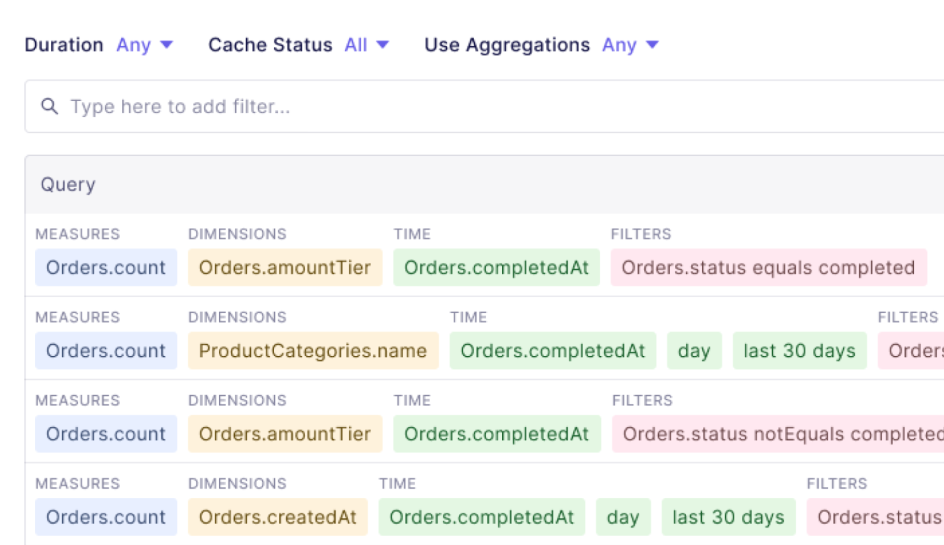 Accelerate queries
Significantly speed up API queries and increase concurrency levels by defining and managing pre-aggregations. Cube Cloud provides tips and suggestions for accelerating every query.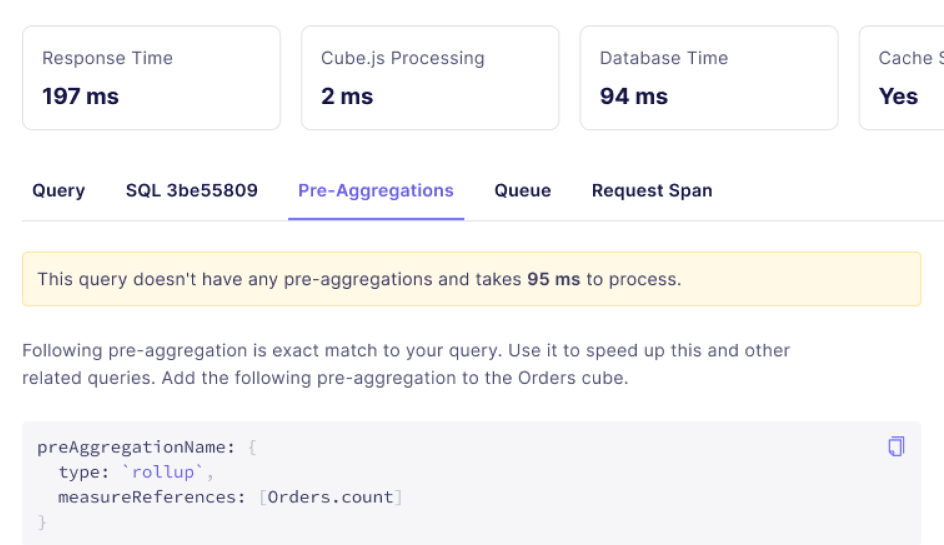 Fully managed
Deploy with a single click. It's never been easier to provision Cube instances and manage memory, high availability, caching, monitoring, and query tracing.
Hosted where you need it
Select shared infrastructure or a dedicated VPC, on Google Cloud or Amazon Web Services, in the location of your choosing.
Scales as you grow
Support mission-critical production deployments with cluster deployments of Cube API instances, Cube Refresh Workers, caching, and queuing.
Backed by the best
You're never alone with community resources, training and consulting, and dedicated support options.
Free
$0/mo
Instant access for development projects and proofs of concept
1 GB
data pass throughData pass through is the amount of data transferred between Cube Cloud and API clients or database.
Get StartedGet Started
Standard
$99/mo
Fully managed analytics API for&nbspindividual teams and smaller companies
20 GB
data pass throughData pass through is the amount of data transferred between Cube Cloud and API clients or database.
$2per additional GB
high availability and auto-scaling
Get StartedGet Started
Enterprise
Custom
Unmatched performance and scalability for&nbspproduction applications
Dedicated VPC with VPC peering
Guaranteed uptime and support
Dedicated account management
Consultation and training
Contact UsContact Us
See full pricing →See full pricing →
© 2021 Cube Dev, Inc.
Resources
DocumentationDocumentation
Tutorials & ExamplesTutorials & Examples
CommunityCommunity
EventsEvents
Cube Cloud StatusCube Cloud Status
Company
AboutAbout
BlogBlog
CareersCareers
Terms of UseTerms of Use
Privacy PolicyPrivacy Policy
Channels